I'm always asked by clients and especially brides to be what's the best skincare prep. I love good hydrated, glowing skin & always say once the base is good , your makeup will sit perfectly throughout the day & night! So with this in mind I decided to share some tips on getting your skin into the best shape possible.
Hydration
It might sound like an obvious one but one of the main elements to good skin is drinking lots of water, try to drink at least 2 litres of water every day, believe me your skin will thank you!
Hydrating masks once a week are key too. At the moment I love Image Hydrating mask, you leave it on for 5-30mins and your skin instantly feels silky, plump & hydrated after it. And also Shiseido Beauty Sleeping mask. You apply it before bed & leave it on all night, leaves your skin dewy & hydrated.
Cleansing & moisturizing
It's so important to get into a good daily skincare routine. This means cleansing (double cleansing when wearing makeup), using serum to help plump the skin & good moisturizers with an Spf. Yes even in Ireland where we barely see the sun you need to have an Spf in your moisturiser! Use a recognised cleanser suitable for your skin type which your skin therapist will recommend for you.
Exfoliation masks once a week, help to renew your skin.
Schedule Facials
It's your wedding, a perfect excuse to pamper yourself!! I highly recommend getting a course of facials done with a recognised skin consultant. They will Examine your skin and advise you which facial is suitable for your skin type. It will help with the appearance & health of your skin, leaving it smoother, hydrated & feeling really fresh.
If you suffer from specific skin conditions , it will really help to enhance your skin into the best possible condition.
I really recommend:
Image Facials – The Beauty Rooms, Tuam
Glycolic Skin Peels – Galway Laser & Skincare Clinic, Galway
They both do a range of facials so there is something for every skin type.
Lips
So many people forget about their lips! Apply a thick balm on them to help keep them moisturised & hydrated. You don't want dry chapped lips on your wedding day!
Fake Tan
Unless you get regular spray tans you also need to trial this. I love Vanti T for bridal party tans. It gives a lovely natural golden glow & really wears well. It fades away really naturally too. I recommend The Beauty Suite in Tuam for tans. The work with a lot of bridal parties.
Brows
Your brows take time to get into shape so you should attend your brow artist around 4-6 months before your wedding. They will help create the perfect shape for your face. Remember not to get them for a least 1 week prior to your wedding. Some peoples skin can take longer to heal after waxing & if the area hasn't settled down your makeup won't sit right. Try to have them done for your makeup trial to give you a better idea of how your makeup will look.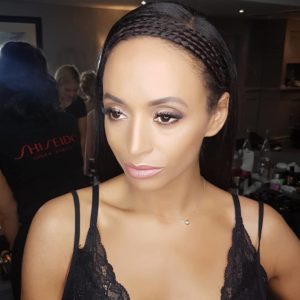 Sensitive Eyes/Watery Eyes
If you have sensitive eyes, due to hay fever or sinuses, or you just find they water easily when getting your makeup done, take an antihistamine tablet an hour before your makeup is due to be done. This is a top tip to help prevent watery eyes which no one wants on their special day.
❤❤❤